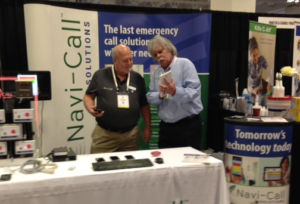 Thanks to all the old friends and new ones who came to see us at the Kansas Health Care Association Convention in Wichita. The Navi-Call Team was on hand to demo the system and explain how a simple $20 mobile phone available from any big box store becomes an exclusive SmartMessenger™ tool to streamline communication and improve resident satisfaction.

Come visit us at Booth #2305 at the Leading Age Convention in New Orleans on October 29 – November 1!
While there, check out the industry's first wireless Task Reminder Station.  It's a Navi-Call exclusive.
This attractive wireless station reminds staff of important tasks.  Mounted inside the resident's room just inside the door, the station has five unique task buttons that can be custom labeled for each resident.  When caregivers push one or more of the task reminder station buttons, the system's NCIS software logs the request and reminds staff at predetermined times to perform that particular task.
© NAVI-CALL SOLUTIONS 2021 | ALL RIGHTS RESERVED