The Wireless
Emergency Call System

you can depend on
Whether it's Independent Living, Assisted Living, Nursing Home, or a Life Plan Community, Navi-Call is the last emergency call or nurse call system you'll ever need.
Navi-Call is the leading wireless emergency call system that is designed for seniors' safety and wellbeing. Between today and 2030, the number of people over 65 living in North America will more than double. That's a 100% increase in the elderly population. This next generation of mature adults will be the longest-lived and best educated in history. They and their families will demand the highest levels of resident care. Is your senior community poised for the challenges ahead? Choose Navi-Call as your dependable partner in providing high-quality senior care.
We Are Innovators:
Always Staying Ahead of the Curve
Navi-Call Solutions has answered the call with over a decade of development. This work culminated in the launch of the Navi-Call Wireless Emergency Call System. This system is specially designed for the senior care industry that spans a range of independent living, assisted living, CCRCs, and skilled nursing facilities.
The Navi-Call system features a diverse range of completely customizable components, devices, and integrations. The system is engineered to adapt to the changing safety and security needs of your residents. Our Navi-Call Wireless Emergency Call System sets new standards for performance and reliability across all emergency call systems.
Explore the Navi-Call System
The Navi-Call Wireless Emergency Call System is the leading full-featured, cost-effective emergency call solution available in the market. It is created for seamless integrations into a variety of senior living environments.
Our system is perfect for a single facility or an entire campus featuring many levels of senior care. Navi-Call Wireless Emergency Call System is designed to facilitate fast and on-demand communication between residents and staff. The alert can be immediately transmitted to caregivers via an array of smart devices (inclusive of phones and tablets), radios, pagers, and displays.
At Navi-Call, we understand the importance of a reliable wireless emergency call system that delivers its best:
► Residents and their loved ones rely on your staff for excellent care. Choosing Navi-Call, a reliable wireless emergency call system is one of the most critical decisions you will make for your facility.
► Our UL-certified system helps your residents and staff have peace of mind and satisfaction in a wireless emergency call system that is tried and tested.
► Navi-Call is a comprehensive emergency call solution that will increase the safety of your at-risk residents and reduce the likelihood of lawsuits and expensive settlements.
► Our safe and dependable system means less maintenance and reduced probability of downtime in a setting where every second matters.
Choose Navi-Call Wireless Emergency Call System and streamline your facility's operations to deliver the highest level of senior healthcare services.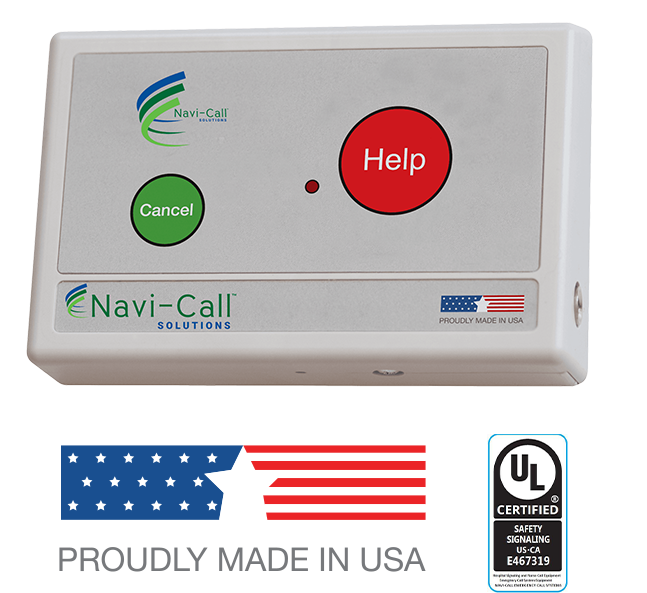 Productive Integrations Designed for High-Quality Healthcare
The Navi-Call Wireless Emergency Call System is future-proofed and engineered for smooth integration with your existing nurse call, safety and security, wander-prevention, quick location, workflow, and controlled access systems. We continuously upgrade our software system to keep everything current. We also monitor the system 24/7 to safeguard against component failures or depleted batteries, and significantly minimize costly downtime.
Our innovative call system is powered by the NCIS software. It functions equally well as a standalone emergency call system and as an integral component of your existing low-voltage and life-safety systems. Furthermore, our system supports a diverse range of skilled and acute care solutions.
The Navi-Call Wireless Emergency Call System is the perfect complement to your existing investments in safety and security solutions for your facility. It merges with multiple systems from a single, interactive, and easy-to-use interface. With our state-of-the-art emergency call system, you can rest assured that all your bases are covered!
The Most Trusted Wireless Emergency Call System
The Navi-Call Wireless Emergency Call System runs on the high-performance NCIS software. You can expect a system that is:

Affordable, Expandable and Future-Proofed
No wiring. Never obsolete. No software to install and maintain.

Intuitive and User-Friendly
Easy to learn. Residents and staff love its engineered simplicity.

Protected by the Navi-Call TWO-YEAR Emergency Call System Warranty
Repair or replace. That's confidence guaranteed.
We will never share your information.
Copyright © 2021 Navi-Call Solutions
Check prices
We will get back to you soon.