The Only Wireless Emergency Call System You'll Ever Need

The Navi-Call System has been specifically developed for senior living environments to provide the most full-featured, cost-effective emergency call solution available anywhere.
Suitable for a single facility or an entire campus with multiple levels of resident care, Navi-Call is designed to speed communication between residents and staff when seconds count.  Alerts can be instantly transmitted to caregivers via smart devices, radios, phones, pagers, tablets and displays. The system also supports dome or sconce lights for skilled care settings and remote flat screen Neighborhood Display monitors that visually show all systems. The platform includes a full spectrum of activity and performance reports to help you monitor staff performance and maximize resident satisfaction.
Best of all, Navi-Call is future-proofed and engineered to integrate flawlessly with existing nurse call, safety and security, wander prevention, locating, workflow and access control systems. Continually upgraded system software means the system is always current, plus the system is monitored 24/7 for component failures or low battery.
A Navi-Call Exclusive
SmartMessenger™
Navi-Call offers the only cost-effective solution in senior care with its Smart Messenger™ application using inexpensive Android® smart devices, while adhering to HIPAA-compliancy standards.
Navi-Call's exclusive SmartMessenger securely delivers time-sensitive resident alarm notifications to Android-based devices via the SmartMessenger app. Now facilities can identify caregivers answering resident calls. Inner-application messaging allows the care team to effectively communicate wherever they are, speeding response times and optimizing senior care facilities' WiFi and smartphone investments.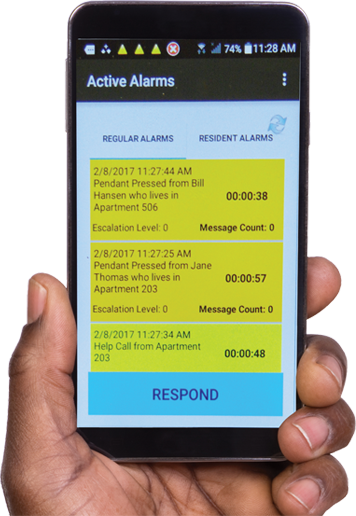 States with Navi-Call installations + Canada + Puerto Rico
Delivery of data from sensors to the server
Support to meet your needs

This state of the art wireless platform requires minimal wiring, reducing installation time and cost.

Adapts as Your Needs Change
Navi-Call is scalable and expandable to meet the growing needs of your facility. Plus the system supports dozens of integrations from leading manufacturers.

The system is designed for ease of use, encouraging quick adoption by residents and staff.   System management functions are extremely intuitive, too.

Administrative reports are customizable and can be automatically dispatched based on your predefined criteria. Chose the information you want to see – where and when you want to see it.

Adapts as Your Needs Change
A Navi-Call exclusive, the system is UL 2560 and UL 1069-R7 certified for independent, assisted, skilled and acute care facilities.

Technical support is available for any issues that may arise- 24 hours a day, 7 days a week, 365 days a year.  We're always here to answer the call.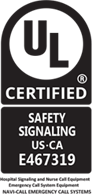 Adapts as Your Needs Change
Underwriters Laboratories is known worldwide for its expertise in evaluating the reliability and safety of a wide range of products. Through a comprehensive process of testing, certification, inspection and auditing, UL enforces the highest standards of quality, safety and performance. With UL approval, you can be assured that products will perform as promised.
The Navi-Call Emergency Call System is the only wireless emergency call system to have earned UL1069 and UL2560 certification.
Here's what it means to you:
1. Residents and their families depend on you to provide the highest levels of care. Choosing a proven-reliable emergency call system can be one of the most important decisions a facility will make.
2. A UL-certified system promotes peace-of-mind for residents and staff, driving user satisfaction.
3. A comprehensive emergency call solution can increase the safety of at-risk residents and limit your exposure to legal action and costly settlements.
4. A safe and reliable system means less maintenance and potential downtime in an environment where every second counts.
All This and a Promise of Performance

Navi-Call Limited Customer Warranty
Navi-Call Solutions LLC warrants to its Customers or Authorized Resellers that its Navi-Call product(s) will conform to our specifications and be free from defects in material and workmanship, when used under normal use and service, for a period of two (2) years from the date of shipment from Navi-Call Solutions. Within that two year warranty period, we will repair or replace, at our sole discretion, that warranted component or part thereof.
© NAVI-CALL SOLUTIONS 2021 | ALL RIGHTS RESERVED